"

With a brimming feeling of hope and excitement, the latest track from Onna Lou "Sonriámosle a la pena" never eases up for a second. The frantic percussion of this track alone is enough to get you ecstatic, and the guitars seem to just tumble out at the perfect pace to match but never feel so in your face. Every voice comes in just like they're joining in from the street, and adds this whole natural sense of life to the track. Just when it feels it could end, the melodic and overall instrumental break really takes things to a whole other place. This leaves the track as this lighthearted and overall this bouncy kind of pick-me-up that you can put on and just lose yourself to. " - Damon Albarn, Jennylee Angèle
"

Onna Lou's music focuses on humanity and social issues and is aimed at uplifting and inspiring her listeners. As she prepares to release her sophomore album this spring, Onna Lou's fifth single from the project, titled "Serpentinas" – is a song inspired by the beauty in the traditions of the Latin American spanning festival of Carnival, and focuses on the courage to overcome and fall in love, again. "
Artist Bio
Onna Lou is a singer-songwriter born in Buenos Aires, Argentina. She has lived in Winnipeg, Canada since 2016. 
With a degree in Contemporary Writing and Production from world renowned Berklee College of Music and another in Classical Music Composition from Universidad Católica Argentina in Buenos Aires, Onna Lou is an internationally recognized, highly educated musician, and artist who is well known for her heartfelt lyrics, attention to detail, and vast knowledge of the regional history and stylings of Latin music. Her ability to blend traditional with contemporary sounds results in very unique songs. 
Onna Lou recently released her chart-topping album, "Diamante" with the support of Canada Council for the Arts. The album has just reached its incredible 15th week on the Earshot Charts, having peaked at #1 on three Charts, Folk/Roots/Blues and International in British Columbia, and Ontario's International chart. Onna Lou has been hailed as an artist who "can dizzy your world in Flamenco, Latin American Folk, Tango, Jazz, Pop and Rock and you get the feeling she's just getting started."   
She ranks among the 2.1% of female identifying producers in the industry today, who also writes, plays instruments on, and records her own music. Her academic reference letter was written by the now Pope, and Onna Lou is often invited to perform her music live on television shows across Canada. As the artist continues to celebrate the success of her sophomore album with upcoming performances across the country. Onna Lou released a brand new single and video from the project entitled "Oceano Profundo" (Deep Ocean) on Monday, September 26th. 
Onna Lou's brand-new album, "Diamante", showcases her tremendous growth, remarkable talent, and confidence as she transcends geographical and cultural borders as both an artist and a producer. Self-produced alongside her musical partner and husband Julian Vidal who is a composer and sound engineer, and Berklee Graduate himself, the album is almost completely self-written and co-produced by Onna Lou and features a handful of esteemed local musicians, as well as Grammy Award-winning Venezuelan producer Raniero Palm (Marc Anthony, Carlos Vives, Rubén Blades…).  
Her songs are consistently played across the country, and have been featured across the CBC radio network, CKUA, and many more. Lou is often invited to perform her music live on television shows across Canada, internet shows, and podcasts.  
Her academic reference letter was written by Pope Francis when he was Cardinal of Buenos Aires, which resulted in Onna Lou getting a full scholarship to finish her studies in classical composition at UCA in Argentina and was a huge relief to lighten her burden in student loans at the time. 
She toured Canada for the first time in September-October 2022 sharing her music at 8 shows in 6 cities and as a showcasing artist at Break Out West and Folk Music Ontario.  
She is already working on the composition of her third album to be released in 2023, which has received the support of Manitoba Arts Council for its creation. 
She is completely passionate about her songs and the power of music to transform lives. She says: "Through music we share, we put into words, and we give ourselves permission to feel whatever we need to feel. We become proudly vulnerable, and that way we can heal and we can build better lives".
Some more...
She has studied and worked with the multiple Latin Grammy winner producer Javier Limon. During that time she produced a music video with Berklee College students for the also multi Latin Grammy winner Alejandro Sanz. This experience gave her the opportunity to participate in the 2013 Latin Grammy Awards performing with the artist. In 2015 she met internationally acclaimed Spanish singer songwriter Rosana and performed as a guest artist at her New York show during her USA Tour. Rosana has been a great influence in her art. 
She has been performing as Onna Lou since 2011. Performing in Argentina, the United States, and Canada, organizing individual and group performances together with amazing artists.  
Since she moved to Winnipeg in 2016  she has performed hundreds of shows from festivals and public shows, to private events and restaurants becoming an active member of the city's vibrant music community. 
She has received the support of Winnipeg Arts Council in 2017, Manitoba Arts Council, twice in 2018 and again in 2021 and 2022, Canada Council for the Arts in 2021, FACTOR twice in 2022, Manitoba Music in 2022. 
"Ahora" is her first album released in 2015. 
Her second album "Diamante" has been produced with the support of Canada Council for the Arts. The album release in May 2022 was anticipated by 7 singles and 4 music videos. 
She has received the support of Manitoba Arts Council to compose her third album to go deeper into her roots through mentoring and collaboration with Latin and Francophone local musicians. 
"Diamante" (Diamond) is a call to connect with our strength and find our way out of the weight of oppression, specifically the oppression faced by women in a patriarchal society and culture. Diamonds form under high pressure and temperature, where fluids transform into the hardest and most beautiful of rocks. I think that when we honor ourselves, when we light a candle in the darkest of moments, all the weight of that which we had to go through turns us into diamonds. In the 12 songs of this album I talk about accepting and even smiling at sorrow, unconditional love through the worst storms, real connection in a world where superficial connections and technology can keep us inadvertently apart, building with one another in a society that over values self-sufficiency, love that is imperfect but resilient, finding peace in realizing we are one with everything, speaking up against social injustice, falling in love again, breaking up, letting go, and, lastly in a song I wrote for my son, about trusting life." - Onna Lou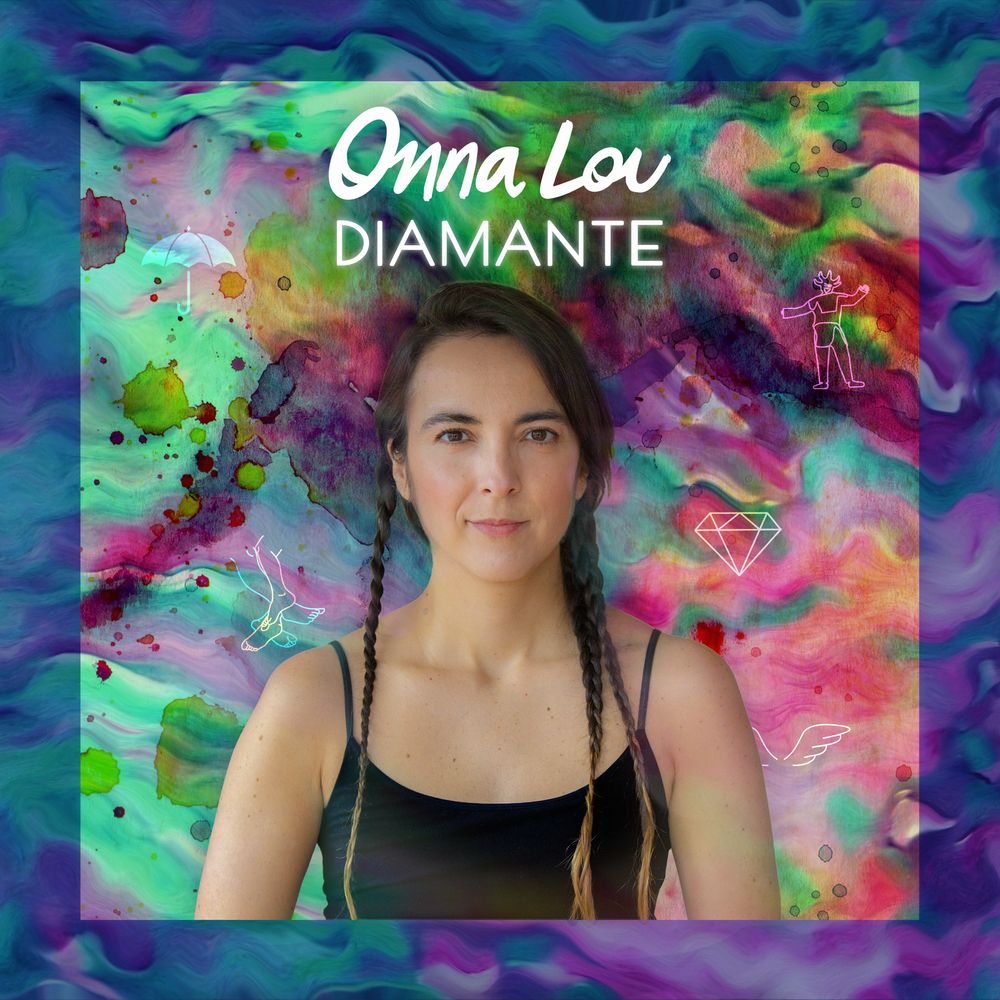 Diamante
Release date May 27th
This is Onna Lou's second studio album and it is a deep and profound dive into Latin American fusion of traditional folk genres brought to a contemporary sound. Her expert ability to blend old and new, results in songs that reach deep into the listener. This is a one-of-a-kind album in the wide range of genres and rich arrangements it includes (even a song with a full orchestra) which are soulfully woven together by Onna Lou's unique musical style.
It is an album that is sure to make you wanna dance, get emotional, smile and maybe make a tear run down your cheek... who knows. Listen and find out! While you take a mental and emotional trip through South America your heart will visit the most joyful as well as the darker aspects that make our beautiful life. 
Press Photos
Sample Track
0:00/3:41

0:00/4:07

0:00/3:41

0:00/3:21

0:00/4:01

0:00/4:03

0:00/3:40